In this section...
Attendance matters!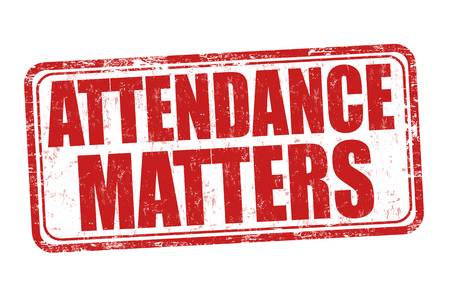 Attendance - it matters, it really counts!
Our expectation is that all pupils aim to have an attendance figure of 100% for each term. This level of attendance will ensure success in lessons, as research has shown there is a strong link between outstanding attendance and positive attainment.
If your child has good attendance, they will:
contribute in lessons
work with staff to develop strategies to enable progress
do better at school
feel happier about school
If your child is absent regularly they may:
find work harder
not feel part of the class or school
find it hard to make friends
not make the most of the opportunities provided by the school
We appreciate that children are unwell from time to time and that there can be exceptional circumstances for absences (see below), but we ask that you think carefully about keeping your child out of school.
What to do if your child cannot attend school due to illness
Children should still attend school with minor ailments (toothache, headache, stomach ache, sore throats) as over the counter medicine can often be given at home before school. We will contact you if they become too ill and need to be collected.
If your child is ill, please contact the School Office on 02394 006 070 or email office@berewoodprimary.co.uk as soon as possible to explain why he/she will not be in school.
If the illness continues, please inform the school for each day that your child is absent.
There is a strong connection between attendance and achievement at school. Absence is proven to have a significant negative impact upon a child's educational attainment.
If they have diarrhoea or vomiting, children can only return to school 48 hours after the last time that they had these ailments. If you are unsure, please speak to the School Office, your doctor or pharmacist for advice.
Children must not attend school if you suspect them of having any of the coronavirus symptoms. Keep them off school and book a test.
If your child is absent we will:
Endeavour to telephone or send you a text on the first day of absence if you have not contacted the school.
If we have not received notification of the reason your child has not been in school for a number of days, we may organise a 'safe and well' home visit to speak with you.
Get your child to school on time, every day!
Our school day starts at 8.45am and finishes at 3.15pm (3.10pm for Year R)
It's important that your child attends school every day and on time. Arriving late to school is unsettling and attending school on time is key to your child doing well at school. It will also set them up with good habits for their life and whatever they choose to do once out in the wider world.
There is a link between good attendance and high levels of attainment. Regardless of the reason, if your child is absent from school it will normally impact on their learning. Parents and carers are legally responsible for ensuring their child attends school on time, every day school is open.
Being on time will also give your child the opportunity to:
make lots of friends and feel included
learn new things and develop many skills
increase their confidence and self-esteem
improve their social skills
achieve their full potential and achieve their aspirations​
All pupils should attend school in time for the start of their lessons. This provides pupils with the time needed to prepare for the day and be in class for when lessons start.
Being frequently late for school adds up to lost learning:
Arriving 5 minutes late every day add up to over 3 days lost each year
Arriving 15 minutes late every day is the same as being absent for 2 weeks a year
Arriving 30 minutes late every day is the same as being absent for 19 days a year
19 days lost a year through being late = 90% attendance.
Absence during term time
Children must attend school every day we're open whenever possible. They must not be absent from school for day trips, shopping, birthdays, baby-sitting or because their sibling or a parent/carer is ill.
​
Leave in term time
Children are not entitled to holidays in term time. Holidays should be taking during school holiday
periods.
Requests for leave due to exceptional circumstances which prevent the period of leave being taken in school holiday periods must be made in writing to the Headteacher, via a request form that can be downloaded from this website of by contacting the school office. A decision will be made as soon as possible and parents and carers will be notified of the Headteacher's decision.
Fines of £60 per week (5 days/ 10 sessions) over 100 day period, per parent/carer may be issued by the Local Authority where unauthorised leave has been taken in term time.
If a fine has already been received previously, legal action will then be taken for subsequent periods of unauthorised absence, in line with Hampshire County Council's attendance policies.
Medical appointments
All medical appointments should be booked outside of school hours whenever possible. Where this is not possible the amount of school time missed should be kept to a minimum. We are unlikely to authorise time off for a medical appointment if evidence is not provided in advance of the appointment (e.g. appointment letter/text message).
Support
We want to help if your child's attendance at school is a problem (less than 96%) then do speak to us. We will also be in touch with parents and carers of pupils whose attendance is giving us concern or if children are regularly late arriving to school.
Where can I get further information and support?
Please speak to your child's class teacher, the school office or make an appointment to speak to
one of the senior leaders if you are concerned about your child's attendance. We can help with useful tips and hints to help improve attendance. The worst thing you can do is do nothing!
Useful links
Click this link for information from the government on where to find help on getting your child to attend school
Hampshire County Council information on school absence
See the Policies page for the school's Attendance Policy
See the Policies page for the school's Child Missing Education Policy